Selecting the right Solar PV Engineering, Procurement & Contracting partner is a key factor for the overall success of any solar PV project. Clenergy is a critical driver for maintaining sustainable growth of the overall solar PV industry and positively contributing to Solar PV value chain.

Everyone in this shooting star industry including; owners, investors, developers, manufacturers, contractors, consultants down to home-owners are looking for the right EPC partner to deliver the right results. With Clenergy, you have this partner at your reach. Clenergy is helping its clients and customers to achieve their project objectives and realize their expectations. Our EPC business is in the heart of our value proposition.

Our solutions are driven by realizing highest value in an innovative way; while maintaining the highest quality. For the successful implementation of solar PV projects; Clenergy's "Circular Turnkey Solution" shown below integrates comprehensive EPC services across the value chain and the complete life cycle of the project.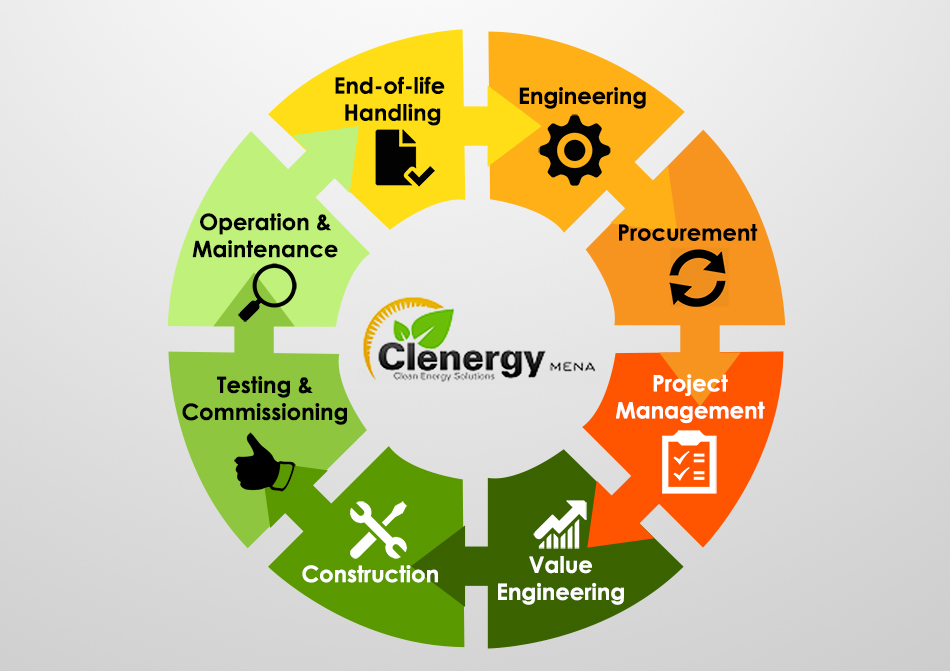 The Clenergy Advantage
Clenergy ensures that it's clients receive the maximum benefit throughout the life-cycle of any renewable energy project. It's proven that performing efficient project sourcing and screening and selecting the right system components and constituents beforehand enhances the value of the system. Dedicated engineering and procurement services therefore lead to lean and smooth construction.  Finally, quality testing and maintenance lead to a higher LCOE and therefore higher benefit to the client.